WILDSIDE are a Top 40 pop, rock and classic hits party band. All members have enjoyed international touring experience and they are some of Australia's most experienced and sought after live musicians, all with lead vocal ability: Sabz on lead vocals, and Adz on lead vocals and guitar, Joz on bass/keys and lead vocals, and Brodz on drums and lead vocals. With a massive song list of the greatest current and all-time classic chart hits, WILDSIDE will bring the party to your venue.
WILDSIDE members have played to huge crowds and completed contracts with institutions such as the Hard Rock Café chain across Asia and the Middle East, Hilton Hotels, Hyatt Hotels, Sheraton Hotels and the InterContnental Hotels Group.
Specializing in corporate events and party shows, WILDSIDE have a reputation for making every show, one to remember. They understand the requirement for quality entertainment and they have the experience and ability to read the crowd. They can seamlessly adapt their set list to suit the requirements of any client at any venue. They provide full production, including a high-end PA system and a stage lighting system upon request.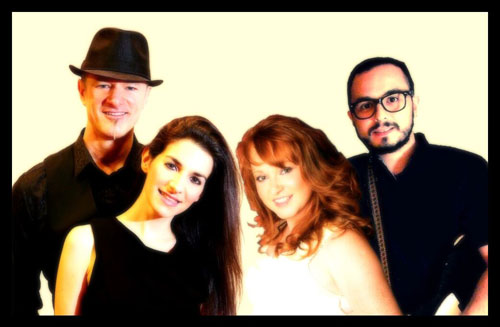 https://www.wildside.online/
Act Type(s): Bands
Sample Song List
ABBA, AC/DC, THE BEE GEES, BLACK EYED PEAS, A-HA, ALICIA KEYS, AVRIL LAVIGNE, AVICII, BACKSTREET BOYS, BEYONCE, BILLY IDOL, BLINK 182, BLONDIE, BON JOVI, BRITNEY SPEARS, BRUCE SPRINGSTEEN, BRYAN ADAMS, CALVIN HARRIS, CHER, CHOIRBOYS, COLD CHISEL, COLDPLAY, CUTTING CREW, CYNDI LAUPER, DAVID GUETTA, DEF LEPPARD, DIRE STRAITS, ED SHEERAN, ELTON JOHN, ELVIS, ERIC CLAPTON, ENRIQUE IGLESIAS, EURYTHMICS, FLEETWOOD MAC, FOO FIGHTERS, GREEN DAY, GUNS & ROSES, IMAGINE DRAGONS, INXS, JASON MRAZ, JENNIFER LOPEZ, JESSIE J, JOHN FARNHAM, JOHN MAYER, JOURNEY, KATY PERRY, KINGS OF LEON, KYLIE MINOGUE, LADY GAGA, LED ZEPPLIN, LIONEL RICHIE, LMFAO, LORDE, MADONNA, MAROON 5, METALLICA, MICHAEL JACKSON, NICKELBACK, NOISEWORKS, OASIS, ONE REPUBLIC, PINK, PHARRELL WILLIAMS, PHIL COLLINS, PINK FLOYD, PRINCE, QUEEN, RADIOHEAD, RICKY MARTIN, RIHANNA, ROBBIE WILLIAMS, ROLLING STONES, ROXETTE, SHANIA TWAIN, SHAKIRA, SIA, SNOW PATROL, STEVIE WONDER, STING, TAYLOR SWIFT, THE BANGLES, THE BEATLES, THE DIVINYLS, THE EAGLES, THE KILLERS, THE KNACK, THE MONKEES, THE PROCLAIMERS, TINA TURNER, TONI BASIL, TOTO, TRAIN, U2, UB40, VAN HALEN, WEATHER GIRLS, WHAM, WHITNEY HOUSTON, ZZ TOP … And Many More!