Getback is Adelaide's best and longest serving 50's and 60's Rock 'n' Roll band, Getback re-lives the great sounds of the 50's and 60's every time they play. Each show results in a smorgasbord of classic tunes being served up. Some of the artists included are The Beatles, Elvis Presley, Carl Perkins, Chuck Berry, Little Richard, Jerry Lee Lewis, Ol' 55, Daddy Cool, Brian Setzer and The Beach Boys.
Getback has the distinction of being Adelaide's most traveled rock and roll band, having appeared at major festivals throughout South Australia, Victoria, New South Wales and Queensland.
Festivals the band has played:
The Birdwood Rock 'n' Roll Rendezvous (SA) 1997, 1998, 2002 and 2005
The Wintersun Festival (Qld/NSW) 1998, 2000, 2001, 2002, 2003, 2005 and 2006
The Riverland Rock 'n' Roll festival (SA) 1999 and 2000
That'll be the Day at the Bay (SA) 1999, 2000, 2001 and 2003
The Jailhouse Rock festival (Ararat, Victoria) 2000
The Jailhouse Rock Festival Burra (SA)  2002, 2003 and 2006
The Adelaide Rock 'n' Roll Festival  2005
Let Getback entertain you… you won't be sorry!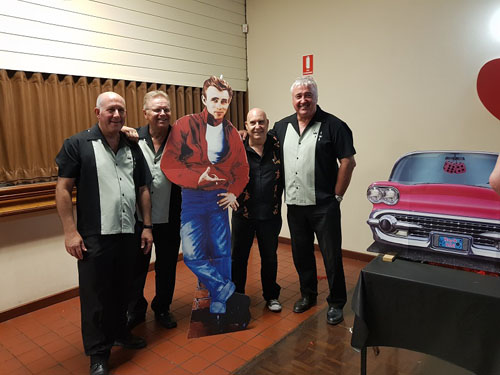 A taste of what the band can serve up
Honey Don't
Hot Rod Lincoln
Hound Dog
Runaway
Singing the Blues
Sea Cruise
The Wanderer
Too Hip Gotta Go
All Shook Up
Don't Be Cruel
Hey Baby
Flip Flop Fly
Green River
Daddy Cool
I'm a Believer
Great Balls
Blued Suede Shoes
Come Back Again
Jailhouse Rock
Matchbox
On the Prowl
Rock this Town
Route 66
Roll Over Beethoven
Sleepwalk
Splish Splash
Slowdown
Surfin' USA
Act Type(s): Bands
Sample Song List